"Sometimes, we're just too close to appreciate."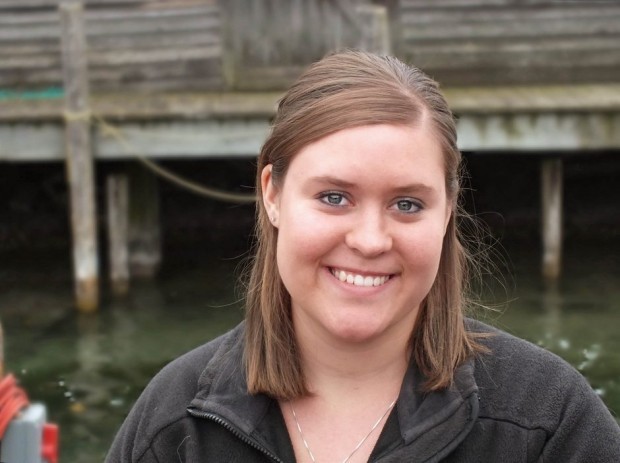 That's Tara Novak's conclusion after spending her summer in Fishtown. Thanks to funding from the Michigan Humanities Council, Fishtown Preservation was able this year to hire our first intern. We found the perfect match in Tara.
Tara first came to Fishtown almost twenty years ago—which is saying something, since she's just 22 now. Like many of those who first came to the mouth of this river, she came for the fish. "My dad loved to take me places all the time with him," she says, "so I'm sure I was very, very young. My dad has taught me everything about hunting and fishing and the outdoors. That's why my dad and I have such a special connection."
Tara grew up in the village of Cedar in Leelanau County, where her family has lived for generations. Her father shared with her his love of the outdoors. It also didn't hurt that she had so many cousins around. "My dad is one of six," she says, "and each of his brothers and sisters has one if not two boys. So I've grown up as pretty much a little tomboy, out with all my cousins in the fishing pond across from my grandpa's house, and pretty much being outside all the time."
Her father brought her to Fishtown, she explains, because, even though some fishermen can get a little protective of their fishing spots, "he knew this was a safe place to take me. It's a great environment to have somebody learn in."
Tara's enthusiasm for the outdoors—and for her native county—didn't dim with time. "I've known pretty much since middle school," she says, "that I wanted a degree that kept me in the outdoors. I just love hunting and fishing, and I want to preserve that, especially for this county."
After two years at Northwestern Michigan College in Traverse City, Tara transferred to Lake Superior State University in Sault St. Marie, in the Upper Peninsula, where she finished her degree in fisheries management. Her love of the outdoors, her attachment to our county, and her personal and professional experience on both Lakes Michigan and Superior all led to Fishtown.
Despite her experience, Tara found a great deal that she hadn't known about this place. "My first week even, working down here," she says, "I realized how all the different tenants knew each other and were friends. I was always raised, your friends are your family in many ways, and some of your friends can mean the most to you."
She also realized how little most people knew about what keeps Fishtown going—even her own family. "They knew of the shops, definitely," she says, "but they didn't know about the Fishtown Preservation Society. They didn't know that this place needs help, it needs donations to keep going."
Tara's mission this summer was to convey to as many visitors as possible the full picture—the long history and the current situation, too. "It's the history here, the fishing here," she says. "I just think Fishtown is a great place. I think the shopping is important, it brings a lot of people in, but the history of Fishtown and getting the donations to keep this place going and alive—that's going to be really important."
Tara is young, but her thinking is long-term because, she explains, "I want to live here. I want to be able, like my dad did, to bring my children here and show them how to fish. Not just show them how to fish, but tell them the stories and teach them that side of it, too. Hopefully, with future generations—my kids and friends and family—I can do that with everybody."
Tara is happy that she still sees lots of fathers and sons and daughters fishing on the docks. After all, Fishtown is still the good environment that drew her father here with his young daughters. "Not many tourists know," she says, "that they can fish off the docks."