The Friends of Fishtown 5K is an annual event that is eagerly anticipated each year by local residents and Fishtown visitors. Prior to my arrival at Fishtown Preservation Society (FPS), the Friends of Fishtown 5K, in its 15th year, was the event that I was most excited to experience behind the scenes. I've never run the 5K myself, but several of my friends, who live in Leland, have told me about the streets filling up with participants running and walking the course that winds through the streets of Leland. This would be my first time working on a major fundraising event and I was excited to learn about the hard work and preparation that goes into preparing for a race.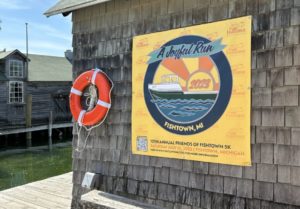 May 22, 2023
When I arrive at Fishtown Preservation Society office to start my internship, I am eager to be able to hear about preparation for the 5K. I expect that most of the work for the 5K begins in early June. I could not have been more wrong! On my first day I join in on a meeting discussing the 5K and am surprised to find out that race registration opened February 1st and that many participants have already signed up. Many people, I discovered, plan their summer vacation around the race. It turns out that preparation for the Friends of Fishtown 5K began in earnest in late October! In addition to registration being long underway, designs are complete for the T-shirts, medals, posters, certificates, and stickers. In fact, a big new bright yellow 5K selfie sign is already on display in Fishtown, letting people know about this year's "Joyful Run."
May 31, 2023
Registrations come pouring in, many with donations included. It turns out that at the end of each month since February there's been a drawing for a Taste of Fishtown gift card packet, including everyone who has signed up for the 5K to-date. The registration cost goes up $5 on June 1st, too, so there is a double incentive for folks to sign up. Summer, who works for Fishtown Preservation, says making that call to each month's winner has been one of her favorite things to do because people can't believe that they won gift cards to Village Cheese, Carlson's Fishery, and Dam Candy. The final drawing  is tomorrow.
June 21, 2023
The summer season is already passing quickly! I've been busy working at the Welcome Center, preparing for a major donor event, and learning more than I ever imagined about Fishtown. Today is the deadline to guarantee getting your requested t-shirt size. FPS always orders extra shirts, but anyone who signs up for the race after this cannot be promised their size, or even a t-shirt, on race day. I hadn't realized that the order must be placed weeks in advance because summer is a high-demand time for the t-shirt printers. It was fun to watch the registrations jump and know that even if no one else signed up it would still be a well-attended, fun and competitive race.
July 6, 2023
This year FPS decided to switch from 10-years for each age category to 5-years. The race committee decided it would also be nice if all runners and walkers who crossed the finish line had a chance at winning a small prize or gift certificate from local businesses. Amanda had already gathered some, and asked if I'd like to gather prizes, too. I love meeting new people and enjoyed the opportunity to go talk to the managers of some of the businesses in Leland and ask them to join in the fun. It was a great experience to get to meet some of the workers and managers of the businesses that I love in Fishtown and Leland. By the end of the day, we'd gathered gift cards for Tampico, Leelanau Coffee Roasting, Two Fish Gallery, Greta's, Wild Lettie, Tug Stuff, The Cove, Momentum, Leelanau Books, Madcap Coffee, Peninsula Provisions, The Fish Hook, and Wild Lettie!
July 13, 2023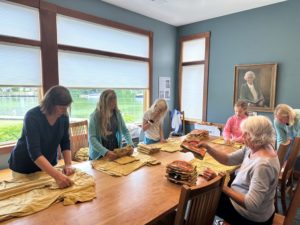 Materials for the 5K have been arriving at the office for the past week, but the 9 boxes of t-shirts that came in today filled the tiny office. The intense work of folding the 700 shirts was completed yesterday, and today stuffing each packet has begun. Each runner will receive a t-shirt, a running bib with a timer attached, and a sticker. With the help of many volunteers, we were able to make stuffing packets a breeze. This year the Meeker family volunteered for the second year as an event for the whole family, including the little kiddos, and helped stuff and organize packets. We couldn't have done it without them!
July 14, 2023
It's the day before the race and we're buzzing with excitement for tomorrow, while at the same time we are wondering if we're going to get everything done in time.  We've spent the day doing some final touches on organizing the packets, along with other small details such as making signs to put along the course to guide the race participants. From 2:00-6:00 runners and walkers come to pick up their packets early so they won't have to arrive as early for the race. It was great to see the people who would be participating in the race. The Friends of Fishtown 5K shirt changes annually and we got lots of praise for 2023 design and earthy yellow shirt with bright lettering announcing "A Joyful Run" with a picture of the Joy surrounded by a sunset. The shirt was most popular with the younger participants.
July 15, 2023 (Race Day!)
7:00 a.m. The morning of the race, I arrive in Fishtown to find volunteers already bustling around setting up tents and filling up coolers of water. Runners and walkers begin to show up by 7:30 and volunteers guide them to the different stations to pick up pre-registered packets, to sign up for last-minute registration, get water, and study the map of the route.
7:45 a.m. I help pass out packets with the other volunteers and am amazed to see how many runners show up on the day of the event. I was told that some of the fastest runners wait until the day of a race and wait to see what the weather is like. If it's good, they show up and sign up. Our hopes came true, and it is a nice sunny morning with a slight breeze, perfect for a race. Runners of all ages flood into Fishtown. Several people come to pick up packets for their entire families and love that this is an annual family activity for so many, both local residents and those on vacation. There are also many couples in their 70s and 80s that love participating in the race together and have done it for many years. I thought this was impressive knowing that they are committed to walking or running 3.1 miles. Race participants start to fill River Street north of Fishtown, many just enjoying being out in the morning air, and others getting in some serious race warm-up exercises.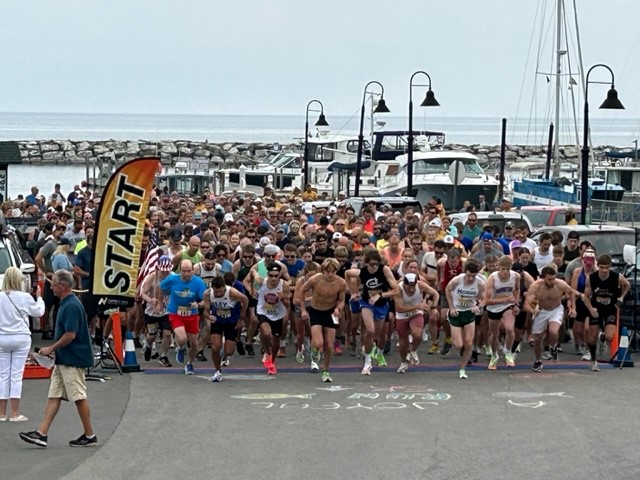 9:05 a.m. As 9:00 AM neared, runners began to line up behind the start line organizing themselves from fast-paced runners to those that would be walking the 5K. As the starting gun went off, signaling the beginning of the race, the runners in the front of the pack took off up towards Main Street. It was so cool to see the flood of people rush through the start line. As the last walker passes the start line the volunteers set out protein bars, oranges, and bananas, and begin to prepare for the medal ceremony after the race. I make my way to the finish line where I will be passing out certificates to those who cross the finish line.
9:25 a.m. The first runner crosses the finish line at 16:16 with only a few others on his heels. The 5th runner is a young woman with a pace of 17:30. It's a humid morning, so not everyone is smiling as they cross the finish line, especially the serious early finishers. The excited crowd, though, makes everyone smile. Along with two-legged runners there are also lots of four-legged runners who complete the race. I love watching all the different dogs that have joined in the race, from puppies to old hounds. This is truly a race for all creatures and all ages. Down in Fishtown racers are crowding the paper printouts of the placer lists, to see how they finished.
10:15 a.m. The runners and walkers gather in Fishtown for the medal ceremony. As the age group winners go up to collect their medals the other runners and the families gathered cheer. It's a small ceremony but it has so much heart. When the participants pose, whether they are 5 years old or over 80, you can see how proud they are. Everyone here has a Fishtown story, and this race just became another special one for them.
11:00 a.m. All the tents, tables, and signs are down. I'm told that over the past couple of days more than 60 volunteers came together to make this event a success. From preparing the packets and all the other pre-event preparations, to the day-of work of guiding people where to park, filling water
cups, and guiding runners on the course, everyone played an important role in making the race possible. The race is now over, but I look around Fishtown and can identify race participants because they are still wearing the shirt. For years I'll see that shirt on strangers and know that we shared this experience.
July 17, 2023
The days following the race are filled with reviews of what we loved, what we should do again, and what could be done better. Just like any other event, not everything goes as planned. We had to jump many hurdles along the way, including running out of shirts, having some sign up for the race twice, and others sign up under the wrong age groups. There were many opportunities and learning curves throughout the planning process and the race itself. It was good for me to be able to experience the accomplishments and learn from the glitches. Within a few months preparation for the 2024 Friends of Fishtown 5K will begin again. It's all in how you handle them!
The Friends of Fishtown 5K is a major fundraiser event for Fishtown Preservation Society and it was great to see how many people showed up to run or walk for their community. Although running isn't one of my strengths, I'm looking forward to the race next year, and vow that I will participate. To be a part of an event like this is worth the 3.1 mile run!
For more photos from the race GO HERE!