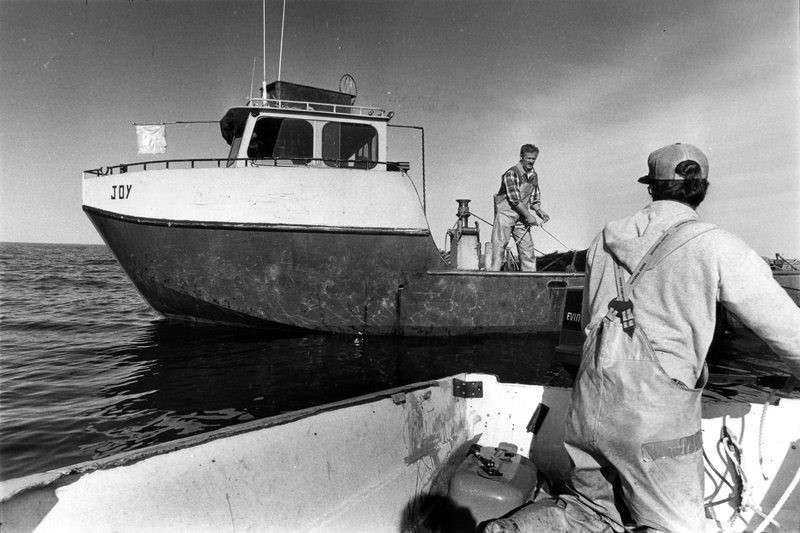 When he decided to test himself, Niko Economides turned to the Great Lakes. He was eighteen, and had just left home. "I intended to face danger," he said, "and push the limit of my abilities." That's how he found himself in a sixteen-foot wood and canvas canoe in the Manitou Passage, four miles from shore, when the storm hit.
It was the summer of 1983. Niko had grown up on the shore of Lake Michigan and knew how to sail before he could ride a bicycle, and he was determined to create for himself a rite of passage – a perilous canoe trip from Saugatuck, southwest of Grand Rapids on Lake Michigan's eastern shoreline, to Lake Superior's northern shore in Canada. His father helped him to restore an old canoe, and his mother gave him a dog, a little border collie named Ahnee. She knew, he said, "I wouldn't go out in the rough weather, to protect the dog."
The night before, foul weather had driven Niko and Ahnee to shore, and they "hunkered down," as he said, at Pyramid Point in the Sleeping Bear Dunes. The next morning the weather seemed to have cleared enough so he loaded his gear, and he and Ahnee set out on the direct route to Leland, across ten miles of open water. Halfway across, he glanced back over his shoulder. The storm had returned, and was gaining.
That morning, the fish tug Joy had departed Fishtown at six o'clock to pull nets on the other side of Sleeping Bear Point. Aboard were captain Ross Lang and crewman Brian Price. The weather was rough, and after pushing through two rounds of thunderstorms, they sighted the first waterspout. It's not such a great day to work, they told each other, and turned back toward home.
In the canoe, Niko had dropped his sea anchor and gotten as low in the canoe as he could. The swells were running high, and foam streaked the waters. In the distance towered a waterspout. He lost sight of the horizon, gray water merging into gray sky – until he noticed a small green blur. As he watched, the green blur grew larger and larger, until he could see it was a fishing boat, named Joy.
"You're not used to seeing canoeists out," Brian remembered, "especially when the weather is starting to go crappy. But we saw this kid and this dog, and we thought we'd better stop and find out what the story is."
Niko, as Brian recalled during a chance encounter many years later, was at first reluctant to get out of his canoe. "You didn't want to mess with your canoe trip," Brian said. "But we felt sorry for the dog." Niko eventually agreed to come aboard. "The dog was happy to get on the boat with us," Brian said. "You were less so. She had more sense." Just as Niko's mother had intended.
"And it was wonderful," Niko admitted. "Anyway, thanks for picking me up, because I might be dead now."
Niko and Ahnee did make it to Canada. "Of course I made mistakes," Niko says, "but I do not regret any of them. I have many memories of the trip which have become like navigation aids to me during difficult times."

Niko continues to live a life on the Great Lakes waters. Years later he embarked on another odyssey, sailing with his son Thanos and wife Jill on the restored 1933 schooner Coaster?II from Portland, Maine, down the Atlantic seaboard, up the Hudson River, and across the Erie Canal and through three Great Lakes to its current home port of Marquette, Michigan. Today his family runs sailing cruises and charters as Superior Odyssey. Brian Price, no longer a fisherman, today is executive director of the Leelanau Conservancy, protecting the lands and waters of Leelanau County.
Niko no longer has that old canoe. "An old guy was walking by where I had the canoe stored, and he said, 'Boy, I'd love to fix that up,'" Niko explained. "I wanted to fix it up, but I just felt like I should just give it to him. So I did."
Niko recently brought his son to Fishtown to see the fish tug that had rescued him. "I have this warm little feeling about the Joy," he said. "I see it's still in the water, and I just think, 'There's the Joy. They picked me up by Leland.' It's good."