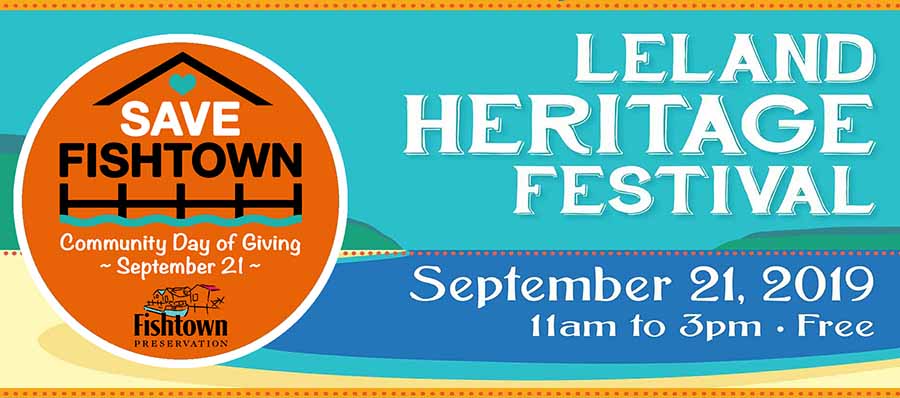 Leland Heritage Festival in Fishtown
Join us in Fishtown, during the Heritage Festival —Saturday, September 21 ~ 11:00am-3:00pm, to learn more about 
The Campaign for Fishtown
 project. Fishtown Preservation staff, Board members and volunteers will be available to show campaign site plans, and answer questions. Project tours will be offered, on the hour, with FPS executive director, Amanda Holmes. There will also be self-guided walking tour maps available, with a route (marked by pylons), identifying project areas, and the work needed. In addition, the
Grand Traverse Astronomical Society
will have their annual exhibit and telescopes near the Welcome Center—for star-gazing above Fishtown.
It Takes a Village ~ Community Day of Giving
During the Heritage Festival the Leland Chamber is hosting a "Community Day of Giving" in support of Fishtown Preservation's Campaign for Fishtown. Leland businesses have developed promotions (of their choice) to benefit the campaign. We hope you'll enjoy looking for window signs indicating participating businesses, and taking part in their promotions. Campaign information will also be available at The Old Art Building, and at the LHS—Boats on the Wall exhibit area.
We want to thank all Community Day of Giving participating businesses for supporting Fishtown, and encouraging Leland visitors to do so, too. It certainly does take a village, and we are grateful for our amazing community!
If you can't join us at the Heritage Festival you can contribute to the campaign in multiple ways:
• Visit the Fishtown Welcome Center
• Call 231-256-8878
• Mail a check to Fishtown Preservation ~ PO Box 721, Leland, MI 49654
• Donate online
• Stop by the FPS office ~ 203 E Cedar Street, Leland
Please join the Leland community in supporting The Campaign for Fishtown. Fishtown is vital to Leland's economy, and is a regional gem! Consumer's Energy recently gave a $25,000 grant towards the $2,500,000 campaign, and shared:
"Fishtown is not only an economic draw for the Grand Traverse Region, it is a significant site in Michigan. We are proud to be part of a project that will ensure Fishtown's future," –Carolyn Bloodworth, secretary/treasurer of the Consumers Energy Foundation.