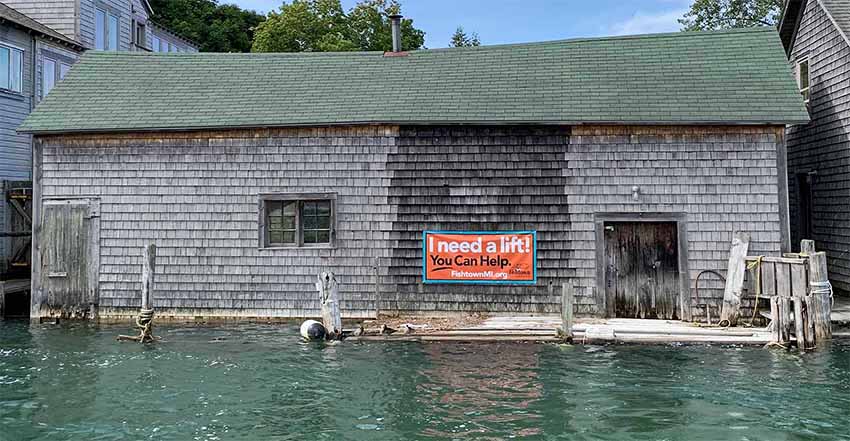 Your Water Questions Answered
What's going on with the water in Fishtown?
Water levels are high because both Lake Leelanau and Lake Michigan have reached record highs. Water coming over the dam meets Lake Michigan on the Leland River, in Fishtown, and has remained just below the docks most of the time. Sometimes, though, weather over Lake Michigan generates a seiche — the bathtub-like sloshing that happens with all lakes. Seiches can bring floodwaters into Fishtown, although they don't stay long — they have caused continual flooding to several shanties, and exacerbated existing shanty and dock issues.
Should I worry?
Water levels on the Great Lakes have historically run on long cycles between high and low. For instance, just six years ago waters were near record lows. Through all of these literal highs and lows, Fishtown has adjusted. However, the high waters this year have taken a toll on Fishtown's docks and buildings.
What are we doing about it?
Fishtown Preservation Society has spent the last four years preparing to improve Fishtown's infrastructure, including rehabilitating three shanties — the Village Cheese Shanty, Carlson's Fishery and the Morris Shanty. The situation is now urgent due to the high water damage. Making changes on public waters is complicated, and we're finalizing permit approvals to begin the needed work. This work is being funded through the Campaign for Fishtown. The Village Cheese Shanty is first on our list to be saved. We will be lifting the shanty off its foundation and putting it temporarily in the Leland Harbor parking lot, while we repair its foundation and adjoining docks — hopefully yet this month. Work on the Morris Shanty will also begin soon!
How can I help?
You can donate to protect Fishtown. The effects of the high water have substantially raised the cost to complete the site project, and our day-to-day care of Fishtown. Your support will keep Fishtown literally above water. Become a sustainable Annual Fishtown Anchor or donate to the Campaign for Fishtown. For more information call Amanda Holmes at 231-256-8878 or email [email protected]
Thank you for supporting Fishtown.