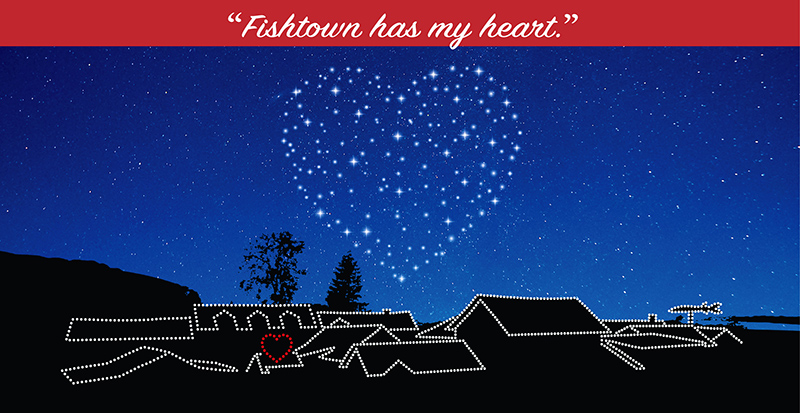 Join Us or Watch Live 
Thursday, February 14, 2019 ~ 5:45pm-6:00pm in Fishtown
In celebration of paying off the Fishtown mortgage we'll offer tributes, have a small bonfire for the old mortgage, and enjoy the relighted shanty rooftops again.* We've added a big red lighted heart in the middle of Fishtown in honor of all who, beginning over twelve years ago, made the purchase of Fishtown possible. If you cannot attend, please go to our Facebook page –Fishtown Leland – to WATCH LIVE coverage of the event from 5:45pm–6:00pm. (Rescheduled from Feb 7 due to ice storm.)
—Click here to see event photo gallery.
Love Fishtown Week
We're declaring February 7–16, 2019 ~ Love Fishtown Week. The shanty rooftops and heart will be illuminated nightly from 6:00pm-10:00pm through February 16. Bring your loved ones to Fishtown for a heartfelt photo opportunity. There will be "I Love Fishtown" signs to pose with for photos. The signs are located on the porch of the Leland Beach Co. at the top of the hill on River Street. (Please put the signs back on the porch when you are finished.) We hope you'll share your photos with us—send them to: [email protected] or message them to us on Facebook at Fishtown Leland;  #LoveFishtownWeek and #FishtownHasMyHeart
—Read MLive Feb 7 article
—Click here to see "I Love Fishtown" photo gallery.
Show Your Fishtown Love
Fishtown is a forever project—that will always need our love and care. Here are a couple ways you can show your Fishtown love:
• Give a gift to Fishtown in honor of your sweetheart! Click here
• Give to the Campaign for Fishtown with a gift designated for urgent repairs to the Village Cheese Shanty and Carlson's Fishery, and it will be matched by the Jeffris Family Foundation of Janesville, Wisconsin — Click here for Jeffris Challenge Grant Pledge form. Thank you for your continued love and support of Fishtown!
Will the light display become an annual event?
Many have asked if the Fishtown light display will become an annual November and December Holiday event. Fishtown Preservation is considering the feasibility, but it would certainly be dependent on sponsorships. If you are interested in becoming a sponsor, please email Summer at [email protected] 
*For initial 2018 light display information, to read news articles and to view a photo gallery—please click here.
"Fishtown in Lights" Sponsors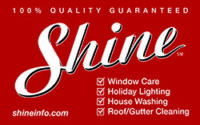 Anonymous
Dam Candy Store