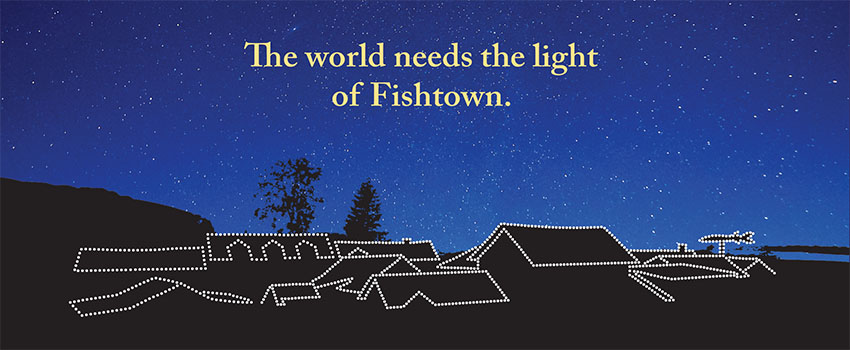 Fishtown in Lights ~
This holiday season Fishtown Preservation has lit the rooftops of Leland's Historic Fishtown with strings of white lights to celebrate our donors, volunteers, and everyone who has made the last twelve years of saving Fishtown possible. The light display continues nightly through January 6, 2019 ~ 5:00pm-10:00pm.
FPS turned on the lights on December 14 with a special Fishtown in Lights event. At the event we honored our dear friend Keith Burnham­, and all those who've helped preserve Fishtown. In 2006, Keith spread the word far and wide via The Leland Report that Fishtown needed saving, and has visited Fishtown almost daily for the last twelve years. For more information click to read the press release, and/or click here to see a photo gallery.
Thanks to all who made the Fishtown in Lights event a success—including over two hundred Fishtown friends that attended the lighting ceremony. Special thanks to:
• Presentation speakers; Berkley Duck, Amanda Holmes, Skip Telgard, Nels Carlson, and Eric Keller – regional director for Senator Gary Peters
• Blue Boat Coffee for providing hot cider
• Chimoski Bakery and local community members: Sandy Tieje and Lynn Milliron for providing cookies
• River & Main for filling our fish bowl with Swedish Fish
• Leland Public School Comet Chorale for leading caroling
• The Bluebird for welcoming all to gather following the event to toast Keith and enjoy half-off pizza night
• And to our event sponsors for making it possible to light up Fishtown for the first time: