Piping Plover Project
Gabrielle Grobbel – Fishtown Preservation
This week I wanted to talk about birds because I really like birds. Let me explain why.
Birds are some of the most frequently studied animals in Biology. In fact, not many topics in Biology haven't been studied in terms of birds. Birds are easy to observe due to their diurnal and visual nature, as well as their ability to make sounds that humans can hear and analyze. They are active during the day every day, and can usually be spotted in their habitat with or without the aid of other instruments. When birds become difficult to find, their audible calls can be recorded and the language of their songs can be translated into details of their life history. They are almost begging to be studied.
Birds also permeate most habitats in the world, their vast diversity accommodating various extreme conditions. The neotropical Harpy Eagle stands nearly a meter tall and easily dominates the rainforest ecosystem feeding on other birds and sometimes monkeys. Adélie Penguins of the Antarctic Continent are master swimmers, but also unique artists that build stylized rock nests to accommodate mates. Wandering Albatross spend nearly all their time navigating the Southern Ocean, and rely on the efficient glide of their 12-foot wingspan to carry them about 75,000 miles in a single year.
Everywhere you go, you will most likely run into birds. They live in suburbs, crowd cities, and frequent parks and beaches. Some live where it's cold, others live where it's hot. Some live by the water, others live by the desert. Birds are all around us and have fascinated professional researchers and amateur bird watchers alike for centuries.
My interest in birds started during my studies at college. I grew up in southeastern Michigan, later moving to South Carolina for school. I had always liked birds, my mom even had a few as pets when I was younger. It wasn't until I traveled to Scotland the summer after my freshman year of college that I learned to admire birds.
I was taking an oceanographic analysis course studying Loch Etive near Oban, Scotland when I had the opportunity to visit the nearby Island of Lunga. The other students and I were dropped off by ferry to the island, and the moment I stepped onto the volcanic rock I was awestruck. The pure blue sea in contrast with dark, craggy rock coated in deep green grasses was something from a fairytale. I silently admired my surroundings as I stepped over vibrant and lively tide pools among the rocks and made my way toward the hills and cliffs before me.
The first bird I encountered sort of crash landed on the cliff next to the hiking trail I was walking on. Once it picked itself up and wandered over to a nearby rock, the small Atlantic puffin greeted me with a curious look. His pristine black and white feathers stood out against the shades of green surrounding him, and his large orange beak looked at once beautiful and silly. Nicknamed the clown birds of the Atlantic, their striking appearance evolved specifically for attracting mates.
Continuing on the trail, I became acquainted with a multitude of puffins that were happy to pose for pictures or go about their business even while I was nearby. They were some of the most curious and friendly creatures I have ever met.
I very quickly became enamored with puffins, and other seabirds and shorebirds. I took an ornithology course the following year and quickly learned to identify the native birds of South Carolina. I grew fond of song birds and hawks, but I enjoyed heading to the coast to see herons and gulls and sandpipers the most.
During one field trip near the end of the semester, I spotted a rather small sandpiper species that I hadn't seen in person before. It had a pale grey back and another bright orange beak, but this beak was small and specialized for pecking in sand. I had seen my first Piping Plover. This individual was probably on its way up north for breeding and just stopping over for a rest. Piping Plovers are migratory, and I was excited to finally see them around the Myrtle Beach area.
I learned soon after that many Piping Plovers breed in my home state of Michigan.
Now I was drawn to Fishtown for many reasons, some more obvious as others. I visited Fishtown when I was young and loved Fishtown's maritime and historical charm, as well as the natural beauty of the surrounding region. But now as a marine science major, I was interested in learning more about fisheries and Great Lakes biology in general. As an artist I was drawn to the creative side of Fishtown, and the many who draw inspiration from it. You may be able to guess the last reason I ended up in Fishtown. Those little shorebirds.
Piping Plovers within the Great Lakes region are most highly concentrated along Sleeping Bear Dunes National Lakeshore. With Fishtown only a short ways up the coast, I knew when working in Fishtown I would be close to my favorite little plovers, and near others who cared about them too. I was inspired by the work that Sleeping Bear Dunes does to protect nesting plover pairs, and I wanted to contribute in any small way that I could.
With only 75 breeding pairs in the entire Great Lakes, Piping Plovers are considered an endangered species. Their numbers began declining as they faced several threats over the years. Habitat loss from development around Lake Michigan's coastline has severely limited their breeding grounds. As development continued and tourism increased, the crowded beaches and parks led to unsafe conditions for shorebirds like plovers. Predation also increased in the Piping Plover's habitat as trash and litter began accumulating on beaches more and more. The raccoons and crows that are drawn to human-based trash began to hunt Piping Plovers at a higher rate, and raid their nests for eggs. Within a few decades, Piping Plovers reached an all-time low of 12 pairs in northern Michigan in 1990.
Concerned by this downward trend, local agencies in the early 1990's strove to bring Piping Plover populations back up and raise awareness of their endangered state. Groups like the Great Lakes Piping Plover Conservation Team are the reason that there are nearly 75 breeding pairs in this region today.
While the Piping Plovers' situation is not as dire as it was 30 years ago, they are still considered endangered. They face the same threats, and are at a disadvantage purely because many people do not know of them. Some may question the importance of one species while there are nearly 10,000 species of birds in the world, but each species plays a unique role in their own ecosystem. Ecosystems are a culmination of many living organisms that function in tandem. Losing one piece alters the performance of the rest of the system.
Piping Plovers are an integral part of the dune ecosystem. The largest freshwater dunes in the world are located along Sleeping Bear Dunes National Lakeshore, and they support thousands of important species, including threatened coastal vegetation that protects our shorelines. Piping Plovers consume small invertebrates and insects that they find in the sand, consequently controlling the populations of many creatures that are considered pests to other species. The role of these plovers may be small, but one small loss in the dune ecosystem can lead to large consequences.
Since the Leelanau Peninsula is such an important area for breeding Piping Plovers, I wanted to help spread the word about these little birds and the threats they face. I decided to start a project in Fishtown to help educate the many people who pass through the Leland area and also head to the iconic Sleeping Bear Dunes National Lakeshore.
I created a display in the Fishtown Welcome Center that includes informational cards that I wrote for visitors to take home with them and look over before their next beach visit. My lovely and talented sister designed a logo to put on the cards, and we made stickers that can be purchased in the Welcome Center to show your support. I also put together a mock Piping Plover nest to demonstrate how well their eggs camouflage into rocky beaches, and how easily they can be stepped on by unknowing beachgoers. Here are some of the simple things I included on my cards that you can do to contribute to the conservation of Piping Plovers and other important shorebird species:
Pick up food and litter left on the beach to deter larger animals
Keep dogs on a leash near nesting areas, as pets are known to trample eggs
Always watch birds from a distance, and never approach birds or nests
Teach others to be conscious of the impact they make at the beach
Next time you pass the Welcome Center, please take a moment to stop in and check it out!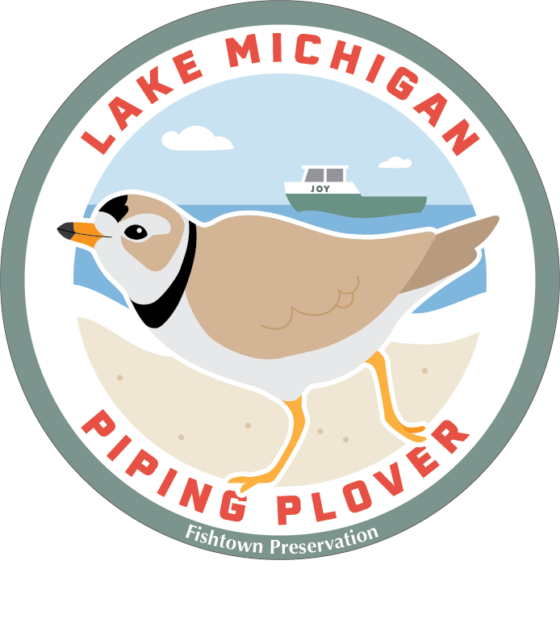 Piping Plovers are small, rare, and rely on the dynamic ecosystem of Lake Michigan's coast. These same characteristics could be used to describe Fishtown. At Fishtown Preservation, we believe that it is important to protect the things that make this area unique, and preserve what could be easily lost without awareness and hard work. We happily look out for Piping Plovers and the other creatures with which we share the coast. Having the opportunity this summer to contribute to conservation efforts and make connections with other bird-admirers has made my time in Fishtown even more rewarding.
Gabrielle Grobbel is the Fishtown Preservation Society Intern for the summer of 2021. She is a marine science student at Coastal Carolina University in South Carolina and is happy to be returning to her home state of Michigan and for the opportunity to learn more about the historical and beloved site of Fishtown and the life of the Great Lakes.