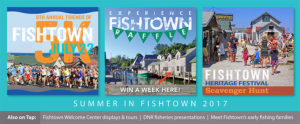 Join us for our 9th Annual Friends of Fishtown 5K run/walk on a course winding through the beautiful village of Leland.
We welcome everyone to participate, whether you're a runner aiming for a new personal record or a parent pushing a stroller.
If you love being here, why not spend a week on the Leland River in the heart of Fishtown?
Win a week in a century-old fish shanty, with completely renovated interior. Now a classic and comfortable, fully-equipped vacation rental with 2 bedrooms and 2 baths (sleeps up to six) – valued at $2000. Runner-up wins a Leelanau Gift Basket valued at $1500.
Fishtown's Scavenger Hunt is a part of Leland's Heritage Festival – and fun for all age groups. The hunt will lead you to a few of Fishtown's nooks and crannies in celebration of our maritime heritage. Complete the hunt to win a prize, and to be eligible for additional prize drawings!