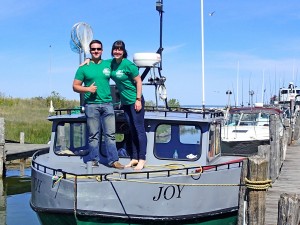 Have you ever wanted to learn more about how Fishtown Preservation does its crucial work of preserving and protecting Leland's historic fishing village? Are you interested in history, fishing, community-building, or non-profits? Are you a current college student planning to enter your junior or senior year in the fall of 2016? Do you want your internship to be a meaningful, impactful experience in the most beautiful place in America? If you can answer "Yes" to those questions, then FPS has a fantastic opportunity for you.
The Fishtown Preservation Society's Internship Program is designed for current college students entering their junior or senior year. This internship provides participants with a great opportunity to gain in-depth work experience in one of the few remaining fishing villages on the Great Lakes, and would be ideal for students of history, marketing, communications, environmental studies, historic preservation, or business.
We are seeking an energetic team player that is passionate about Fishtown. Responsibilities will be wide-ranging, including welcoming and educating visitors to Fishtown, working at the Fishtown Welcome Center, organizing and recruiting volunteers, planning and executing events, fundraising, administrative tasks, and other duties as needed. The intern will be spending time in the office as well as in our interpretation center in Fishtown.
SCHEDULE/COMMITMENT
FPS expects intern to commit to 10-12 weeks of work, beginning in May or June of 2017.
Flexible schedule of 25-35 hours per week. Weekend hours will occasionally be required.
This will be a paid internship.
SKILLS REQUIRED
Excellent oral and written communication skills; able to communicate with diverse populations
Professional demeanor
Experience with Microsoft Office programs and social media
Well organized; able to pay excellent attention to detail
Able to carry out tasks independently, as well as work cooperatively with staff, volunteers, Board members, and vendors
Able to multi-task and meet deadlines
EXPERIENCE OR SPECIAL SKILLS DESIRED:
Knowledge about Fishtown and the Leland community
Passion for Leelanau County, its history, and its people
Willingness to take direction and critique and adjust accordingly
Customer service experience (not sure if this should be the focus –more about public service in general )
GPA of 3.00 or higher
Interested applicants should send a resume and a cover letter expressing interest to the Executive Director, by Monday, February 28, 2017. We will evaluate all submissions and schedule interviews with qualified candidates in the second week of March.
To learn about the 2016 intern experience from one of our interns, click here.
Contact:  Amanda Holmes, Executive Director, [email protected] or by phone at (231) 256-8878