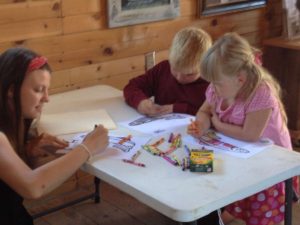 The 4th of July is more than just a patriotic celebration accompanied by hot dogs and fireworks; the holiday actually marks the beginning of the high-traffic vacation season here in Michigan.  Around this time, families start to take a week or two off work and camp to visit grandparents' cabins or try out new lakeside hotels.  Fishtown, relatively busy throughout June, booms with visitors when the 4th of July comes along and continues to be just as busy every day until school begins again in September.
We keep a count of how many of these visitors walk through our door in the Fishtown Welcome Center.  Some visitors stay for half an hour at a time while asking question after question, some beeline for a particular book or hand-crafted item and purchase it within the same minute, and some wander in with bewildered looks inquiring about restroom locations, restaurant recommendations, or where Tug Stuff is located.  Each tally mark on our visitor count sheet serves a much larger purpose.  Each tally mark represents someone who has been drawn to Fishtown. When people come into the Welcome Center I have the opportunity to learn about their stories and their connection to Fishtown.
Fishtown's visitors come from all over the country, sometimes the world, and each has a personal interest in our coastal nook.   The interactions I have with these visitors are some of the best parts of my day.  I met a man whose family has vacationed in Leelanau County since his grandfather was young.  This man hadn't visited Fishtown itself in twenty years, but came back because he waxed nostalgic for all the times he walked the same docks with his family.  There are many families who are just beginning their relationship with Fishtown.  Families of four, five, and six pour in from all sorts of places, eager to experience the bustling energy of boats, shops, and, quite likely, the ice cream counter at Dam Candy Store.
These interactions often prompt reflection on my own decision to come to Fishtown.  After asking hundreds of people about their vacations and childhood memories, I turned the question to myself: Why did I choose to work for Fishtown Preservation in northern Michigan, knowing no one, for my last college-given summer?
My decision was initially based on the appeal of a new adventure.  It was simply too strong to resist.  Sitting in my dorm room in Salzburg, I could not imagine returning home to the same summer job, same schedule, same everything from home after experiencing all I had throughout this past semester.  After all, northern Michigan in the summertime is the stuff of legends.  I have heard through family, friends, and social media that this area is one of the most beautiful to visit in the summer months.  Largely, though, I was intrigued by the idea of Fishtown Preservation itself.  After reading about it online, I stumbled on some writing from one of last year's interns, Annamarie.  It was, in fact, this particular entry that convinced me to apply for the internship.
The realization that Annamarie's reflection prompted my application has reinforced to me the importance of chronicling this experience. As I write about Fishtown's visitors today, it is easy to forget that I am one.  Immersing myself in the culture of Fishtown and Leland has given me the opportunity to see Fishtown in a way that daily visitors might not, but I am still a temporary guest here in Fishtown.  This place is a builder and holder of fond memories, reliant on the experiences of its visitors to continue existing.  
To me, some of the fascination Fishtown holds is borne of that very fact: its permanence is protected through the temporary  nature of its visitors.  Fishtown's "forever-ness," to coin a new term, persists through a joint effort between its incredibly rich history and the prospect of new memories waiting to be made each time a visitor walks the docks.