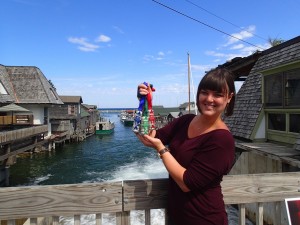 By Annamarie Geoghegan,
Summer 2015 Intern, Fishtown Preservation
I can make out the distinct smells of smoked whitefish, pretzel bread and sweet candies in the air of a busy July morning in Fishtown. Captain Jack Duffy is pulling his boat, Whitecap Charters, to the dock outside of Village Cheese with a family of four. It's their first time on the big lake. They're leaning over the side of the vessel to open up coolers filled with fish.
The sun is high above a Fishtown populated with foodies, artists and husbands wandering in search of their wives, whom they'll find them admiring one-of-a-kind Leland Bluestone jewelry pieces at The Bead Hut. I'm getting ready for the day at the Fishtown Welcome Center, too, feeling the energy gathering momentum. As a summer intern for Fishtown Preservation, I've gotten to know many of the people who work day in and day out in one of the most remarkable places I've ever been.
I grew up with an outsider's perspective on Leland's rustic, historic fishing village. I can remember my first time eating an ice cream cone from the Dam Candy Store along the docks. I was just a little kid and my dad had taken me fishing that day on the dock right outside of Diversions. While I waited patiently for that first nibble on my bait, I knew this was a place I needed to visit year after year.
About five summers ago I had a chance to work at Alice's Closet (better known as "the Fishtown Haystacks"). That summer gave me a look at the partnerships and teamwork that make this place work. Still, this summer has been eye-opening for me. Now I understand better how important each day is for business in Fishtown, and also how vital it is for everybody who works in Fishtown to collaborate on tasks and work together.
The season gained momentum from mid-May into early June, and I saw involvement here like I have never seen anywhere before. Dave Kareck of Village Cheese, who arrives via bike each morning, rakes the gravel to distribute it evenly again around the paths and walks. Rick Lahmann has come out of Reflections to water the flowers around the benches in front of Fishtown, so that visitors have a more beautiful walk into the district. Amanda Holmes of Fishtown Preservation is pausing to pick up cigarette butts during her regular check-in with the place and the shopkeepers. Annie Lang is helping to carrying merchandise down into the Leland Gal shanty because Maggie Revel Mielczarek is seven months' pregnant with her second son.
As visitors, we don't often notice the finer details of a working community. We see painters, boaters, fishermen and shop owners, day after day, but we assume they're here because the place is beautiful and one of a kind. We forget that they're also working. Whether they're selling paintings, smoking whitefish sausage or scooping ice cream, many of them have five months to earn enough money to support their families for an entire year. In the summer Fishtown swells with families and friends on vacation, but it is also full of families and friends working to preserve Fishtown for visitors, year after year.
I'm back at Michigan State for my final year studying Environmental Sustainability, and I'm taking many things with me that I've digested from my summer internship. The lesson I most want to emphasize is about simple, everyday participation. This town remains strong only so long as the people in the area are involved and participate in keeping Fishtown standing, the tourists coming, and the businesses prosperous. I've realized that we can all participate, as employees or as visitors, by picking up a piece of trash, helping someone find a public restroom, answering questions from new sightseers, and spreading the word about the history of Fishtown.
In Fishtown we're all putting in an effort, trying to promote a place that may be less than an acre in size but means the world to each of us. We take care of our customers, of our staff and, most importantly, of the environment around us. I've witnessed the work that goes on behind the doors after the shops are closed. It's these people who are always on the alert to ensure that the shanties and dock boards are safe for visitors. They are tireless in working to preserve Fishtown for future generations—to sustain and create traditions.
Thank you, Fishtown, for taking me under your wing this summer, for inviting me to become part of your family—and for teaching me how to combine work and pleasure.