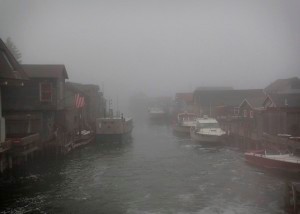 "What are the challenges ahead?" asks Jazmin Biernat, interviewing me about Fishtown for CMU Public Radio.
I begin reciting a long list that is never far from my mind: remaining maintenance projects, Fishtown flooding from road run-off, changing Great Lakes water levels, helping Joel Petersen, captain of the Joy, find more crew, raising the funds for the final $1.25 million for the balloon payment to complete the original Fishtown purchase—
"What happens if you fail to raise the money?" she asks.
"That's not going to happen," I say.
I've answered so quickly that Jazmin wonders if I've understood the question. "But what if you fail?" she repeats.
"That is not going to happen," I say again. "Everything that Fishtown Preservation sets out to do we do, and meeting those payments is no exception."
It doesn't occur to me to have anything but confidence. That final payment is large and it's coming fast, but we've already faced a long list of challenges—and where we haven't met our goals, it's because we've exceeded them.
The reason isn't mysterious: It's the people behind Fishtown Preservation, many of whom are present or past members of our board of directors. They've made significant financial contributions themselves, and these commitments have inspired others to make noteworthy gifts, too. Caring about Fishtown, I've learned, is contagious.
We set ambitious goals for Fishtown in our original strategic plan because Fishtown matters even more now than it did 40 years ago, when it became the cornerstone of the Leland National Register Historic District. Great Lakes commercial fishing sites, already dwindling in 1975, have become scarce. Even more rare is a place like Fishtown that has embraced functional change while maintaining its historic character.
We're also making ambitious plans for the future, I told Jazmin, and we expect to be successful with those, too.
Our future success depends upon you, of course. Please consider making a financial commitment toward these current major projects. Closing the books on the original acquisition of Fishtown, restoring the Carlson Fishery shanty and stabilizing the Fishtown landscape are all key to the present and to the future.
Fishtown is a place that matters­—but only because Fishtown matters to you.
Our Current Projects
Click each photo to learn more…