Last year we announced that we were following up two successful projects by beginning a third. After completing the rehabilitation of multiple shanties and burying the utilities, we were enthusiastic to begin improving the walkways and introducing native species into the landscape—finishing touches that would have a great impact on Fishtown. It turns out, however, that our enthusiasm was a little premature.
We had begun planning meetings with contractors about landscaping and drainage when we realized that some small but important changes in and around Fishtown had left our 2010 site survey outdated. We've had some significant changes to the landscape since the survey, and since Fishtown is at a river's mouth, changes in water flow also have large effects. Water runoff through Fishtown has increased greatly since the repaving of a public roadway adjacent to Fishtown, and at the same time overall Great Lakes water levels are much higher than in recent years.
We have therefore paused our plans to allow for a detailed re-survey of the area. Recent flooding alerted us of the need to examine the soil structure across the site. Most of the dock pilings were placed by men thigh- or even neck-deep in water who maneuvered piles by hand beneath the docks or shanties. We're commissioning a geotechnical evaluation to take soil samples throughout Fishtown to ensure we are dealing with water and unstable soils in the best way possible.
Instability in the site shows in three places. First is the foundation of the Carlson Fishery. It was set on stone and wood blocks and pads, which have become increasingly unstable in the high waters. Dealing with this issue is part of the current fishery rehabilitation project. The Village Cheese Shanty is having similar problems. It was built in the late 1950s on a concrete slab. Eight years ago engineers thought the visible crack in the floor was stable, but the changing waters flows from road runoff and the Leland River have caused it to settle lower. In addition, the rock retaining wall that was installed in 1986 at the entrance to Fishtown is bowing more with each year, and now it threatens to collapse.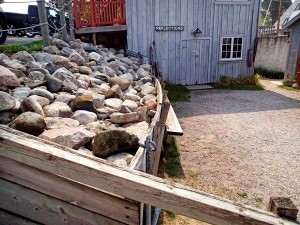 Fortunately, there is always opportunity amid problems. For instance, finding a new answer to the retaining wall is also a chance to plan to reconfigure the entrances to Fishtown, including making them more accessible to visitors with mobility difficulties. Our plans will of necessity be more than repairs, though we will maintain Fishtown's historic character and ambiance.
For now, however, we remain in the planning stages. We'll keep you posted on the progress to come!
Contribute to Fishtown's Projects