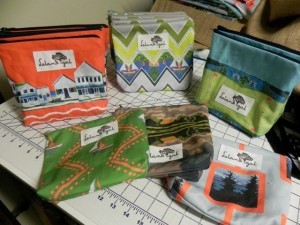 We are proud to announce that Leland gal will be joining our Fishtown family this summer. Leland gal will be taking over the space previously occupied by Tack & Jibe, and is owned by Maggie Revel Mielczarek, a long time Leland summer resident.
(In case you were wondering, Tack & Jibe's products are still available through their website and they plan on keeping it as a creative outlet!)
 Leland gal focuses on creative fabrics and designer threads and provides items that are fashionable, fun, and vibrant. Merchandise includes unique gifts, as well as custom clothing, home decor and a variety of fabrics by the yard.
Leland gal was born out of Maggie Revel Mielczarek's need for a creative outlet.  After nine years of teaching Elementary Art, she was asked to start teaching graphic design a week before school started. This meant learning the entire concept of graphic design herself first. Maggie was already a painter, so she started playing with her artwork and creating graphics until she figured it out—and fell in love with this new medium. She had some of the patterns printed on fabric and designed products just for fun. The reaction to her fabrics was so spirited that Maggie put on her business hat to turn her creativity into an eclectic yet sensible lifestyle line. Maggie uses her bright youthful patterns to evoke the same feeling she has when she returns to Leland each summer. The images and products of the Leland gal brand embody the lifestyle and philosophy of the small town that has long inspired her.
For more information on Leland gal visit their website, Facebook page, or see below:
Q&A with Maggie Revel Mielczarek, Leland gal founder:
Many of your fabrics and products showcase Leland scenes and images, why is this?
"No matter where I have lived or what I have done, Leland has always resonated as "home" to me. The people, the attitude, the water, the lifestyle, and the history are all things that make me feel at peace when I am there.  It is that sense of calm I try to bring to my paintings to allow people to bring that same feeling home to hang on their walls or now with a lifestyle line of fabric products."
Are you working on any new products to feature in the store this summer?
"Oh yes, we are working on all sorts of new product ideas to suit every price point! We are making smaller bags, wine bags, flag banners and many more things to get for someone as the perfect gift, or remind you of your time in Leland whether it is your first trip or you are a permanent resident."
What is your favorite thing about Fishtown?
"I can't go to Fishtown without stopping at the candy store to remind me of my childhood. I was allowed to sell my first wares there as a child (puzzle piece hair clips), and would always stop in to "see how sales were going" and have an excuse to pick up some gummies and walk the Fishtown and Leland Harbor docks at sunset and listen to the clanging masts of the sailboats