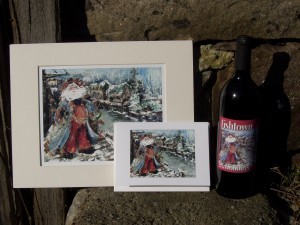 Fisherman Santa in Fishtown prints (image shown) are available for purchase at the FPS offices for $20.00.
Black Star Farms is selling special Fisherman Santa in Fishtown designed bottles of their popular Red House Wine (wine shown). The wine is available for purchase for $15.50 at all their wineries in Northern Michigan. The wine can also be shipped to some states, call 231-944-1270 for more information. The wine is also be available through the end of December at the Leland Mercantile.
The much loved, Fisherman Santa in Fishtown giclee painting by Rozanne Priebe, is available for purchase again this year for $165. Please call Fishtown Preservation, 231-256-8878, for more details.
A percentage of all proceeds benefits the Fishtown Preservation Society!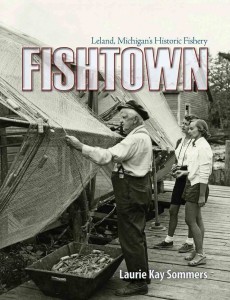 In addition, our new book about Fishtown is still available for purchase. In the book, Fishtown: Leland, Michigan's Historic Fishery, author Laurie Kay Sommers tells the story of this beloved place's past and present through the remembrances of the commercial fishermen and ferry captains who have worked out of Fishtown for well over a century. There are harrowing tales of rough seas, near misses and devastating losses, and the reasons why so many fishermen would choose this life all over again. She also shares the story of a community determined not to lose this historic and picturesque attraction, and the successful efforts of a non-profit organization to purchase and care for a key portion of Fishtown. Numerous photographs of Fishtown illustrate the text.
The book is published by Arbutus Press and available for $19.95 at the FPS offices and at local bookstores in the Grand Traverse Region.