If you've ever wanted to know more about how we're taking care of Fishtown, we've joined up with the Leelanau Summinars Series to show you the behind-the-scenes how's and why's of Fishtown Preservation!
Fishtown has been the site of commercial fishing activities in Leland since the 1870s. Though still active, Fishtown is fragile. Over two days, "Getting Hooked on Fishtown" will explore Fishtown's site and fishing history, as well as highlight the ongoing work of the Fishtown Preservation Society and its efforts to preserve this rare Great Lakes fishing village. Each day a team of specialists will take you on a journey, revealing little-known information about Fishtown and its fishery.
When and Where?
Presentations will take place Monday-Tuesday, July 16-17, from 10:00 am – 1:00 pm.
We will begin each day in the Munnecke Room of the Leland Township Library, 203 E. Cedar St., Leland (next to the Fishtown Preservation offices), but we will also spend time exploring Fishtown.
Day 1 (Monday, July 16)
A team of historic preservation professionals will take a holistic look at Fishtown, revealing the intricate work behind ongoing efforts to interpret the site and inspire its stewardship as a unique, nationally-significant historic fishing village on Lake Michigan.
Day 2 (Tuesday, July 17)
See Fishtown through the eyes of fishermen and researchers. Participants will learn about the challenges of operating a commercial fishery under past and present environmental conditions and changing policies and regulations, as well as take an underwater journey through the Manitou Passage.
Registering
You may register online or through the mail with Leelanau Summinars. If you have any questions about registration, please contact the Leland Community Cultural Center at 231.256.2131.
Our Presenters
Day 1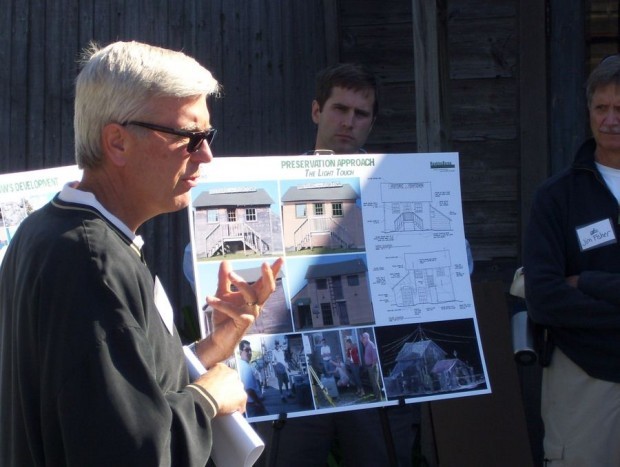 Laurie Kay Sommers, PhD – Laurie is a freelance folklorist and historic preservation consultant based in Okemos, Michigan. She has been writing about Michigan history and culture since the 1970s. She has taught university courses in folklore and ethnomusicology and developed numerous public arts and humanities programs, including folk festivals, museum exhibits, and documentary radio.
Eugene Hopkins, FAIA – Principal, HopkinsBurns Design Studio, Ann Arbor. Gene has over 32 years experience overseeing historic preservation and context sensitive design projects. In 2004 he served as President of the American Institute of Architects and in 2008 was appointed Architect of the Michigan State Capital.
Mark Johnson, ASLA – Principal, The Johnson Hill Land Ethics Studio, Ann Arbor and Traverse City. Mark received his academic training in natural resources and landscape architecture. He places his emphasis on carefully understanding the character, history and meaning of a site as he works with clients through the design process.
Kathryn B. Eckert – Kathryn is Chairperson of the Fishtown Preservation Society. She is an architectural historian and historic preservationist whose 35 years of experience has taken her throughout Michigan to study buildings and cultural landscapes. She is Michigan's past State Historic Preservation Officer.
Amanda Holmes, PhD – Amanda has worked as the Executive Director of the Fishtown Preservation Society since 2007, where she oversees the organization's operational and preservation efforts. She has made a personal commitment to learn as much as possible about the remaining commercial fishery operations and fishermen in the Great Lakes with first-hand visits.
Day 2
Brian Price – has been Executive Director of the Leelanau Conservancy since its founding in 1988. Brian worked as a commercial fisherman out of Fishtown for more than a dozen years, serving as crew with Ross Lang on board the Joy. Brian's personal interests include local geology and natural history and anything that has to do with watercraft.
Hans VanSumeren, PhD – Director, Great Lakes Water Studies Institute at Northwestern Michigan College. Hans has performed extensive water-related research from Maine and the Florida Keys and the Hawaiian Islands to northern Alaska. He recently left the University of Michigan's Ocean Engineering Laboratory to direct the only Freshwater Studies program in the nation – in Traverse City.
Thomas Goniea, MS – Biologist, DNR Fisheries Division, Lansing. Tom is in his 10th year with the Michigan DNR as the State-licensed Commercial Fishing Coordinator. He has studied at MSU and the University of Idaho, and has particularly enjoyed learning about the history of commercial fishing and the DNR, and linking this to the current state of the fishery.
Meggen Watt Petersen – Meggen recently moved to Michigan after an 18-year career in international security, based in Washington DC. She now works as a consultant and is working with the Michigan Fish Producers Association in its interactions with regulatory agencies. Meggen is also expanding her practice as a photographer, including documenting Great Lakes commercial fishing.