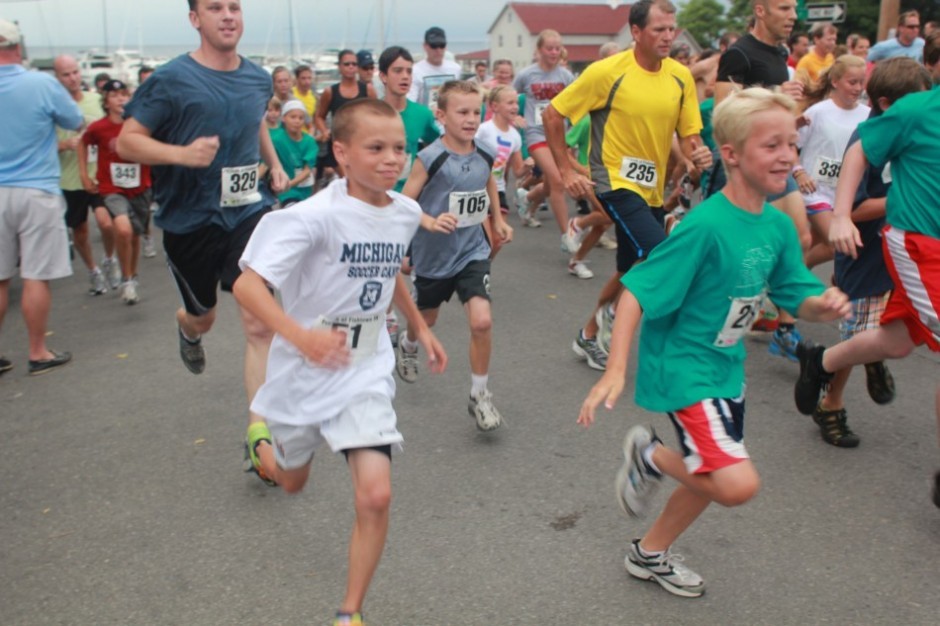 UPDATE:
Thanks to the record number of participants! For results (and lots of photos), check here.
The race is almost here, so online registration is now closed. To register, come to the registration table on the morning of the race!
On Saturday, July 28 the Fishtown Preservation Society is pleased to present its 4th Annual Friends of Fishtown 5K.
The race starts at 9am in Historic Fishtown in full view of the Manitou Islands and takes participants through the beautiful streets of Leland. Whether you are running on your own, walking with your family, or cheering on another participant, this race gets you in the spirit of summer and Fishtown.
Participants are welcome to run or walk and strollers and leashed dogs welcome.
Packet pick-up will be held the day before the race on Friday, July 27 from 2:00-5:00pm at the Fishtown Preservation Society offices, 203 E.Cedar Street, next to the Leland Library. Packet pick-up will also be held the morning of the race on Saturday, July 28, from 7:30-8:30am in Fishtown.
Refreshments and food will be provided after the race and an award ceremony will take place at 10:15am in Fishtown.
In addition, doctors and massage therapists from Community Chiropractic Health Center in Lake Leelanau will be on site to provide massage and muscle work before and after the race.  There will be no charge for their services, but they do encourage donations to Fishtown Preservation.
Click here to see the race map!
Registering for the Race
This race benefits Fishtown Preservation. Proceeds will help the Fishtown Preservation Society to continue its work in Fishtown. Cost of registration is $25 before July 28, and will increase to $30 the day of the event.
You may purchase your ticket(s) electronically, by downloading and sending in this form (PDF), or by stopping by the FPS office at 203 E. Cedar Street in Leland.
The 4th Annual Friends of Fishtown 5K is Sponsored By: